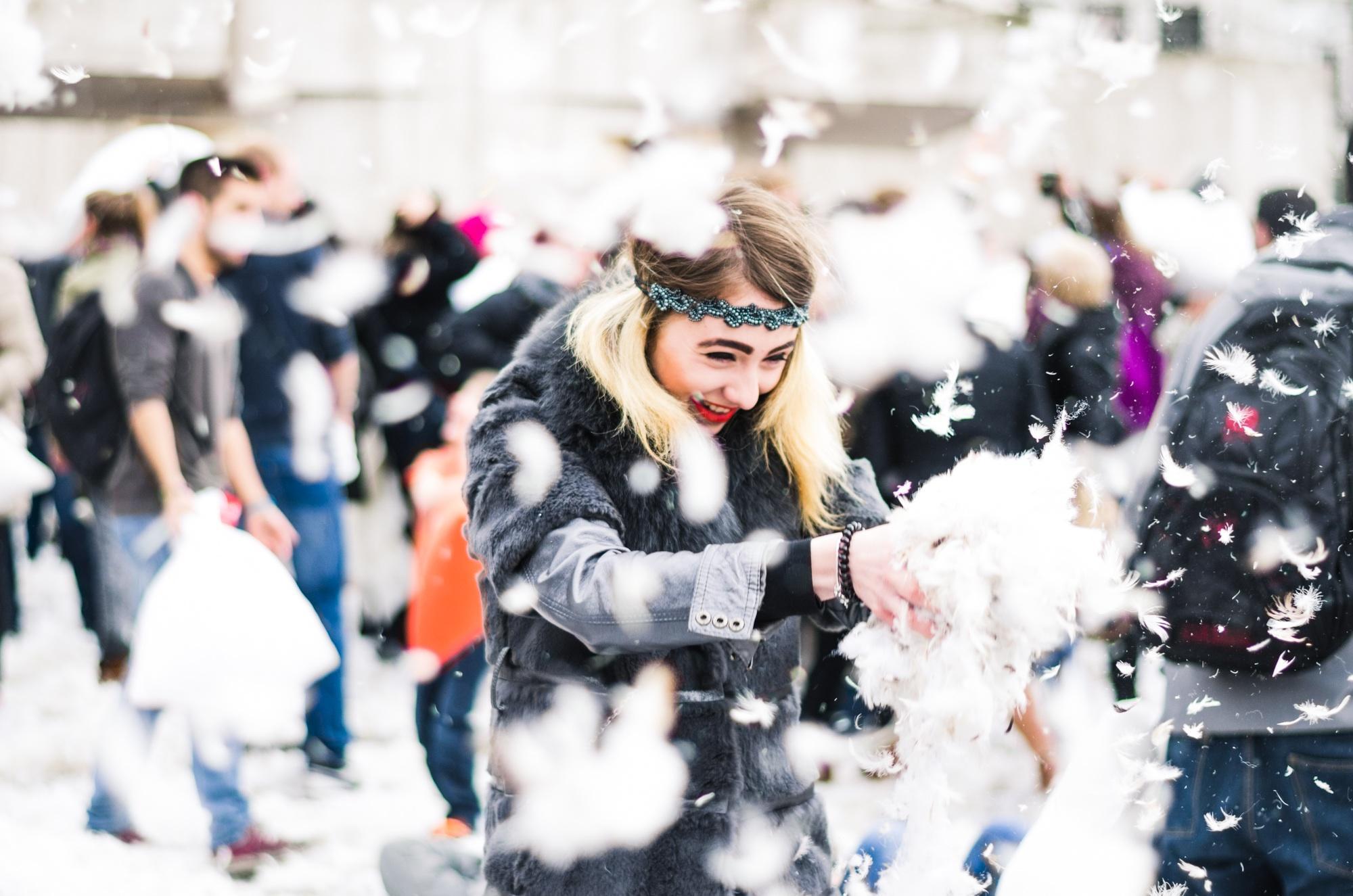 A soundbite-savvy event planner will tell you that events are testing grounds and learning opportunities.
I'll tell you that they're logistical nightmares and probably the reason Murphy came up with his famous law. Of course, it's also super rewarding and life-changing work. Naturally. 


But when it comes to events, the truth is, you do learn a lot. And very quickly. And you don't have to learn a lesson twice because usually the first time is so painful or embarrassing that it's burned into your memory until the end of time.


And although these tips may sound familiar experienced event planners, newcomers should listen up. Because each one of these reminders is a personal lesson I've learned along the way.
1. Communication is your entire job. You arrange things and you are the CAPCOM of your crew. Communicate ruthlessly to your guests, team, sponsors, partners, vendors & boss. If something isn't going according to plan, chances are that you haven't communicated it effectively. The best event planners I know have learned how to do this efficiently.

2. Yes, you have to do a venue visit. If you can't make it, send an expert communicator that you would entrust your firstborn child to and give them lots of questions to ask. (Tip: In Chapter 03 of our new eBook Events 101, you'll find an awesome list of suggested questions. Just flip to page 11.)
 
3. Visit your venue at night, especially if you're planning an activation after dark. Lousy flood lights and loud neighbors are likely to hide during the day.
 
4. Find all the emergency exits on your first venue visit. And don't plan to block them with signage, DJ booths, arcade booths, ball pits, slip-n-slides, petting zoos... you get the idea.
 
5. Delegate your ass off. Be clear about roles and responsibilities up front. And make sure everyone knows where and when to show up. I find that diagrams work better than paragraphs.
 
6. You need a contract for everything. Spell out all your details in your agreements, and print copies for the actual event. Contracts are the best way to make sure you're on the same page. 
 
7. And cover your butt with a force majeure term, which protects both parties from carrying out duties during "extraordinary circumstances."
 
8. This is a 6x3 folding table. This little gem solves problems you won't even know you'll have. Ask for big stash of them. But also make sure you have a skirt or a long tablecloth, or you'll look like an amateur.

9. Befriend the staff at your venue. Including the busboys, security guards, janitors and electricians. You'll need to ask them for lots of favors.
 
10. Almost all projectors emit white light, which can stifle a moody vibe super quick. If you can't procure a special white light-free LED projector, be strategic in how you use the one you have, and make sure you do some pre-show testing.
 
11. Sound is a real thing. Think of sound like you would a fire-hose filled with bouncy-balls; it bounces off stuff and creates weird acoustics. Figure out how to direct it or hire a professional. (I do the latter.)

12. Calculate everything you think you'll need (including ice, A/V cables, door staff, and a few bottles of 5-hour ENERGY®). Then triple it.  
 
13. Event insurance is kind of lame. It doesn't cover much. Plus, a lot of venues will come with their own liability waivers. If you're sumo wrestling or hosting a tiger parade, you should probably talk to a lawyer.

14. Garbage is a big deal. Ask your venue where and how you need to dispose of your trash. If you overlook this it could cost you time and/or money.... and that stinks.

15. Wrap tablecloths around your garbage cans. Make them like handkerchiefs so they don't become eyesores. 
 
16. On a farm in the middle of nowhere? Confirm the location of your drinking water source, electricity, and again, garbage disposal. Just do it. 
 
17. Pack some personal supplies: Sharpies, tape, a knife, a phone battery, extension cords, measuring tape, safety pins, and a lighter. And then get ready to use them all.
 
18. Put your name on everything that you own and want to see again.
 
19. This is a Barcelona chair. When a client requests it, make sure they know the costs. This goes for everything a client asks for. "No surprises" is your middle name.
 
20. Find the building elevators, get the keys, and then learn that lift sideways, slantways, longways and backways. Delivery crews will need to know the height, width and door dimensions. 
 
21. If guests will be in said elevator, hire an attendant. It's just so damn classy and it helps throttle in the inflow of guests.
 
22. The stage is the highest value area of your venue. Brand it correctly.

23. This is a step and repeat. It's cheap and easy and it invites photography, which is one of your event's best marketing tools. But make sure never to fold it; the creases never come out.
 
24. Moving lights create "party mode" faster than any other decor in the biz. Invest in your own set or hire a "lampy" to rent and operate them for you. Yes, a professional lighting designer (LD) can also be called a "lampy."

25. Too expensive? Grab some cheap lighting from Guitar Center. (And stop second guessing me on the lights, damnit.)
 
26. This is a Gobo. It's a stencil or template slotted inside a light source. They're an easy way to get a logo projected onto any surface. The further away you mount it from the wall, the larger and dimmer the image will be.
 
27. Venues don't like storing your stuff. Out of town party? Shipping your signage and necessary decor to your venue is a fabulous idea, but often you'll get pushback or a charge from the venue to store it for longer than your rental. This is an smart term to agree upon in the initial contract. 
 
28. Tents are expensive. If you're hosting an outdoor event, there's a 90 percent chance you'll need one. Always opt for side panels (where there's rain, there's wind) but if you can, roll the sides up until you absolutely need them.
 
29. Use the "assembly line" method for stuffing gift bags. Or learn the hard way. Up to you.
 
30. Warm beer is all your fault. Ice it down at least three hours before the event. Same goes for mixers and white wine!
 
31. Open your wine in advance, too. It saves a boatload of time when the bar is packed. If anyone throws you shade, tell them you're letting it breathe. Duh.
 
32. You'll need approximately one beer for every four people and one 750L bottle of liquor for every three. Here's a helpful party calculator for food & beverages.
 
33. And speaking of, every state has different liquor laws. Truly confusing stuff. Read up on donations and permitting rules before you sign any deals.
 
34. But then again, not everyone wants to get smashed. Seltzer & lime is a nice booze alternative. And it feels fancy.
 
35. This is a rider. Expect to get them from any level performer. Make sure your A/V team approves every single line. But feel free to negotiate the hospitality portion. (They don't really need all of those brown M&Ms.)
 
36. You need an amazing event website with up-to-the-minute details, hashtag feeds, maps and clear messaging. Lucky for you, we invented Splash.
 
37. Yes, you need a photographer. It doesn't need to be super professional, but those photos need to be crisp and, more important, delivered on time. Expect to pay $250- $550 for 3 hours.  
 
38. Print a boatload of one-sheets. The general who/what/where/why/whens of your whole event. Hand them out to staffers like candy.
 
39. Stanchions and velvet ropes are your friends. Use them not JUST to seem fancy; use them to create a space around the entrance and drive traffic. Everyone respects the red rope.
 
40. Fire code dictates that you need a clicker at the door. Bring one in case your venue doesn't have one. (Weirder things have happened.)
 
41. These are Edison lightbulbs. Get 'em if you have the option. They do create a bit of heat though, so be mindful of that.
 
42. Air conditioners and power generators are loud AF. Don't put them next to a guest.
 
43. Extending your event costs more than you think. While it may feel like the move to keep the party going an extra hour or two, make sure you know all the costs associated. Overtime for all staff, more booze, longer venue rental... it adds up. Also, sometimes leaving your guests wanting more is a good thing. 
 
44. Your staff needs a green room. It needs to be big, convenient, accessible & secure. Perfect answer to: "Where can I leave this?" 
 
45. Your staff also needs snacks and water. A hangry worker is not an asset. Order pizza for your anyone setting-up and they will wait a bit longer before breaking down. #PartyMustGoOn
 
46. These are New Balances. Put them on your feet. Or wear something similar. This is no time for a heel or a non-cushioned footbed. 

47. Tell your event sponsors about all the other brands you're working with and why. Trust me on this one. I can't tell you how bad this surprise can get.
 
48. Send reminder emails to your guests with all the pertinent information they'll need to enjoy your event. Here are a few tips.
 
49. On-site communication with your staff is imperative. You can rent radio headsets, or try using Slack. (My friend Karen Hartline swears by it.)
 
50. People are lazy. Your ticket sales and RSVP counts will double the day before your event. Prepare mentally.
 
51. Show up first. The earlier you're there, the more time you have to fix things. Plus, being first establishes you as an authority figure.
 
52. Silent moments suck. Have a personal pre-made playlist at the ready to fill dead air.
 
53. Tend your toilets. Every guest will see the bathroom. You need at least one toilet for every 50 guests, but we always say the more the merrier.

54. Start the room at 64 degrees. As bodies pile in, things will heat up fast. (This one is tip #5 on our handy list of 9 Tips to Guest Bliss.)
 
55. A line at the door is a good thing. For me, no line is a failure. 
 
56. "I told you so" is unacceptable. During an event, those words must never be spoken. Ever. There is no time to point fingers; save all "learnings" for the post-event recap and get to work on a solution! And if you do find yourself in a argument with a vendor or teammate, keep your calm. You still have to work with them. Repeat this mantra: "People are not trying to screw me over." 
 
57. Brief any security guards and door staff on the entrance protocol and event in general. Twice. Most importantly, let them know that for the next 3 hours you are the king/queen of the event and they must never second guess a request.

58. Identify your VIPs and make sure the venue staff know who's special and why. Here's how to find your VIPs in Splash. And make sure to check out Chapter 2 of our Events 101 ebook. We dedicated an entire section to how to leverage your VIPs, which starts on page 26.
 
59. Get only enough food to keep guests there. People hang out if there's food and they leave if they're hungry. But too much food can mean digestion naps.

60. Yell "doors in an hour!" to your staff when there's an hour before the doors open. Keep doing this in 15 minute increments until the event begins. 
 
61. People will break and spill everything. Paper towels are fine. Mops are a Godsend. But regardless, if a venue or vendor doesn't understand this, it isn't the right venue.

62. Take care of your boss or your client. Assign them a handler. Make them happy. 

63. It's not memorable unless you make it memorable. Plan a WTF moment. Orchestrate an OMG performance. A lasting memory is a powerful gift. Plan something so wacky that all your guests can say is, "you just had to be there." 
Don't see your favorite tip in our list? Tweet it at @splashthat with #partyscience and if we run your tip in our next blog post, I'll personally send you a Splash event battle pack.
Ben Hindman is co-founder and CEO of Splash, the country's fastest-growing event marketing platform that helps businesses and brands more effectively market through their events. An event planner turned tech entrepreneur, events are in Ben's DNA. Prior to starting Splash, Ben was the Director of Events at Thrillist, where he produced large-scale events from concerts to mystery fly-aways.